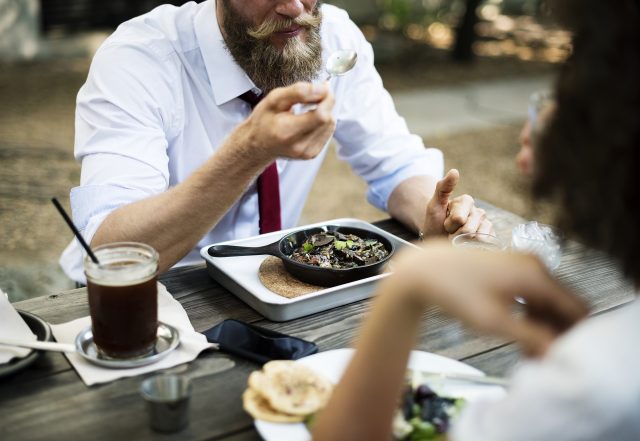 You decided to invite him to the restaurant? The last thing you want to worry about when it comes to a first date is where to eat. That's why we've gathered a few tips to follow before booking a table!
Use TripAdvisor
TripAdvisor is an application that gives honest and detailed comments about restaurants.
The application even has a category of restaurants that have been evaluated (by people who have visited it) to find out whether or not they would be a good fit for a first date!
By using this application you have little chance of cheating.
Tip: If you can't find an opinion about a restaurant, see Google, which also now lists people's opinions.
Dinner in your favorite restaurant
Another way to make sure that your first appointment will be successful is to simply choose a restaurant that you already know and love!
In addition to knowing that you eat well, you will feel a little more comfortable in a space that is familiar to you. It's also a good way to relax if you're nervous.
And bonus, you will have a topic of conversation to start the evening: Why you love so much the food that is served!
Ask him what he or she likes to eat
The worst scenario for a first date would be to choose a restaurant that he would not like at all.
To avoid this, don't forget to ask your partner what kind of food and cuisine he prefers, before booking a table.
Ask your partner what he likes is the most polite thing to do and shows that you pay special attention to your relationship.
It's also a way to learn a little more about him or her, which is the goal of the first date, isn't it?
See the menu and Prices
Going to a restaurant that is expensive on the first date can be intimidating and inconvenient for your partner.
To avoid this, do some research on the restaurant before you go. Check out the menu and prices to make sure they are correct.
Don't choose a five-star restaurant If you have a two-star budget. If you don't feel like your place, the appointment starts on the wrong foot.
Conversely, avoid fast-food restaurants. Would you like to take someone you really love to McDonald's for the first date?
Remember that this will be the first impression you'll give to your meeting, so maximize your chances for this evening to be magical!